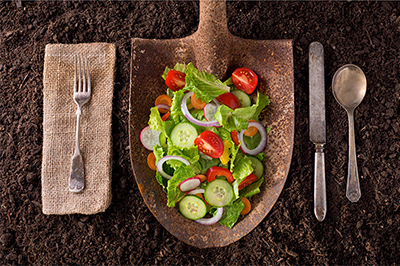 Unlocking Healing with Real Food
with Dan Kittredge
Founder/Executive Director of the BFA
Thursday, February 28, 2019 from 7:00-9:00pm
at Cross W Ranch
3111 Pinckney Rd Howell, MI 48843 [map]
---
Join us for a memorable evening with Dan Kittredge, organic farmer and executive director of the Bionutrient Food Association. Dan connects the dots between human health and the way our food is grown in this interactive 2-hour presentation.
At this talk, you'll learn:
why human vitality depends on soil vitality
"root causes" and systemic solutions for the current epidemic of chronic degenerative illness
market- and community-driven strategies for reforming our food system
healing our environment and ourselves by producing and consuming the best quality food
Over the past century, the USDA and FDA have measured a steady decrease in both soil quality and nutrient levels in food. You would likely need to eat a dozen or more apples to get the same amount of iron, for example, from one of your grandparents' apples. Across the board, the alarming trend in our food supply is a steady decline in nutrients since testing began 100 years ago. During a comparable period, degenerative diseases such as Alzheimer's, diabetes, and heart disease have risen to epidemic levels. While we understand that correlation does not prove causation, and that grasping complex relationships requires mountains of data over a long period of time, it is undeniable that human, crop, soil, and environmental health are deeply interconnected.
This discussion is offered as companion to the two-day workshop, "Principles of Biological Systems", held that weekend, March 2 & 3, also at Cross W Ranch. While this evening's workshop looks deeply at the correlations between human health, soil vitality, and the decline in nutrient quality in our food supply, the two-day weekend workshop provides a detailed framework for growers, gardeners and homesteaders to build healthier soils that grow food that is rich in the nutrients that our bodies need – and if that were not enough incentive, growing practices that produce higher yields, greater pest resistance, and food that simply tastes better!
Note: If you are registered for the "Principles of Biological Systems" workshop, attendance at this evening talk is free and encouraged!
For more info, contact local volunteer organizers:
Sally Witkowski / sally@crosswranch.com 877.879.2915
Jim Bates / jwbei54@gmail.com 248.245.7114
Clifford Dean Scholz / 2greenhands@gmail.com 248.410.1762