Note: we expect to release our report and analysis for 2020 in the coming months.
Check back soon!
In late 2016, the Bionutrient Food Association held a retreat in North Brookfield, MA to discern the next steps of the organization. There, we made the strategic decision to move forward with building a tool to measure food quality and to figure out what quality is and what causes it. It was a bold idea, a project so large in scope and scale that many argued was too fraught with complexity to undertake. Yet, here we are, four years later, and the Bionutrient Meter and the Bionutrient Institute are no longer visions and dreams, but realities. It is testimony to that obvious but oft forgotten truth: nothing will grow if a seed isn't first planted.
The BFA and committed partners have built an open agriculture ecosystem that is nothing short of transformative. It is a new way of working together that follows biological design: open, mycelial, and symbiotic. When we began with a proof of concept in 2018, a dedicated team of six volunteers purchased crops and mailed them to our lab in Ann Arbor, MI. In the 2020 season, over 120 Grower Partners and Citizen Scientists from across the country are mailing in over 4000 food and soil samples from their farms and communities to three labs, two in the US and one in France.
While the world seems to oscillate between standing still or exploding with tension, we are here as a reminder that we are in this together, and that we are moving steadily forward. Our roots are deeply anchored in our mission to increase quality in the food supply, and we are so thankful you are connected to us in this work. Below, we provide an overview of our 2019 season as well as what is underway in this 2020 season. When we look back four years ago, we are buoyed to see what we've accomplished. When we look forward and imagine the next four years, we are bursting with the bounty yet to come.
The 2019 Lab Season
The 2019 Lab Season saw many improvements from 2018 effort. Here are some highlights!
increased the number of crops from 2 (carrots, spinach) to 6 (carrots, spinach, kale, lettuce, cherry tomatoes, and grapes),
increased the number of samples per crop from 200-400 to 600-900,
addressed major sources of noise in lab processes and eliminated unnecessary tests like proteins and replaced them with new tests including pH for soils and Brix for produce,
significantly expanded reflectance wavelength range (now 350 – 2100nm) and the number of instruments used to measure that range (devices from 4 separate companies) to provide added assurance of the spectral results,
decreased costs per sample from $212 to $60-$100 and added Chico State as a second lab partner to handle samples from the West Coast, and
instituted a Grower Partner program (in addition to our existing Citizen Science program) to track weekly, detailed farm-level management information to improve our ability to associate farm practice with nutritional outcomes.
We are still processing the results and our final report, but this much is clear:
Variation exists.
The variation is massive.
And most of what we are eating is poor quality.
The next step is to dig deeper to find out what causes such variation, and what we can do to improve food quality. Check out these histograms to see some preliminary visuals of variation in nutrient quality. (More to come!)
(Click images below to enlarge)
Carrots: Polyphenols + Antioxidants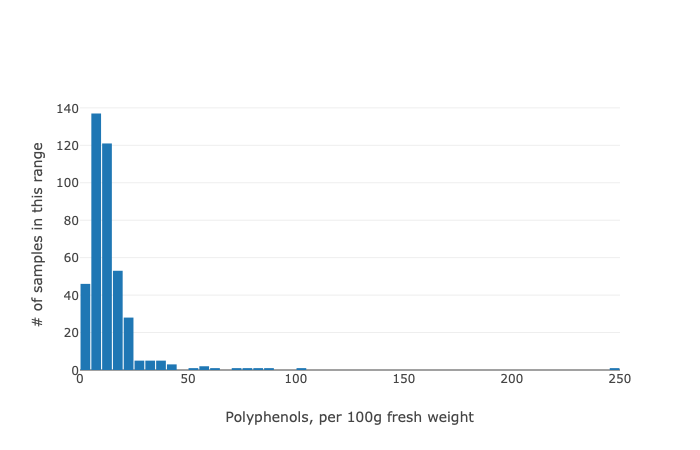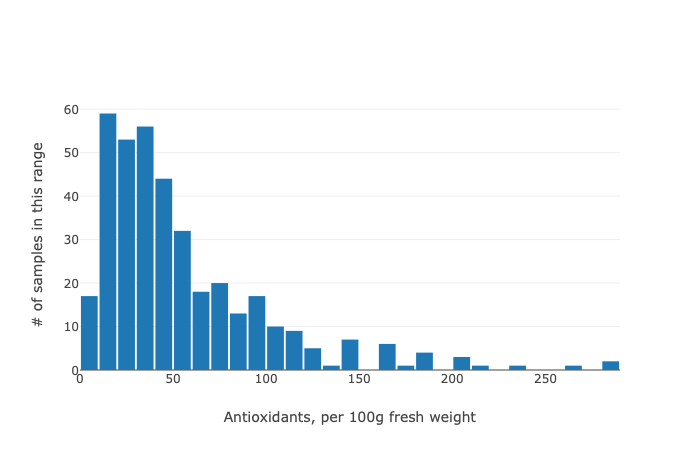 Grapes: Polyphenols + Antioxidants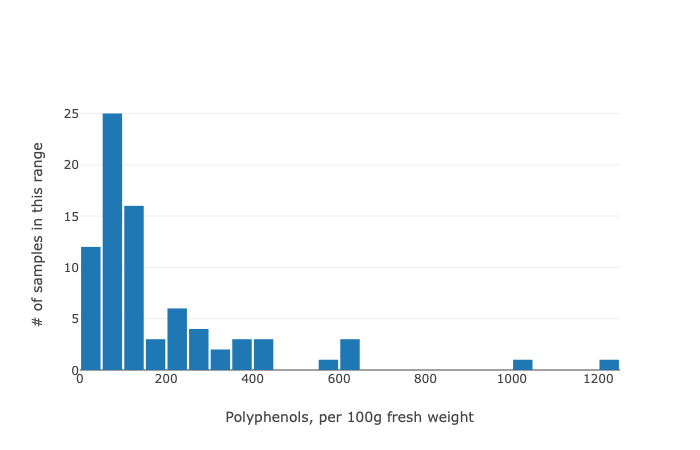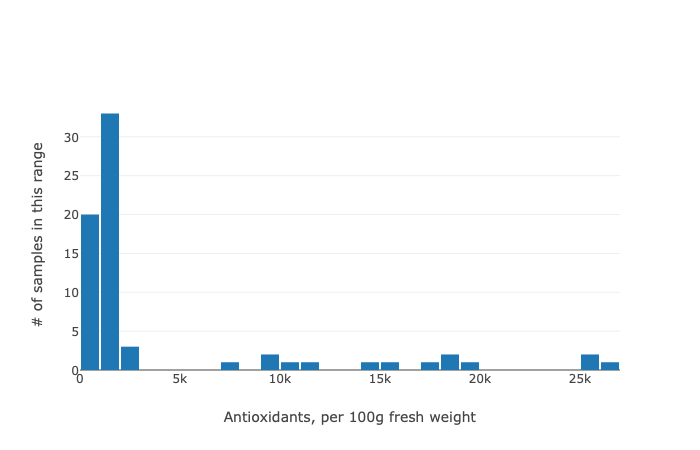 Kale: Polyphenols + Antioxidants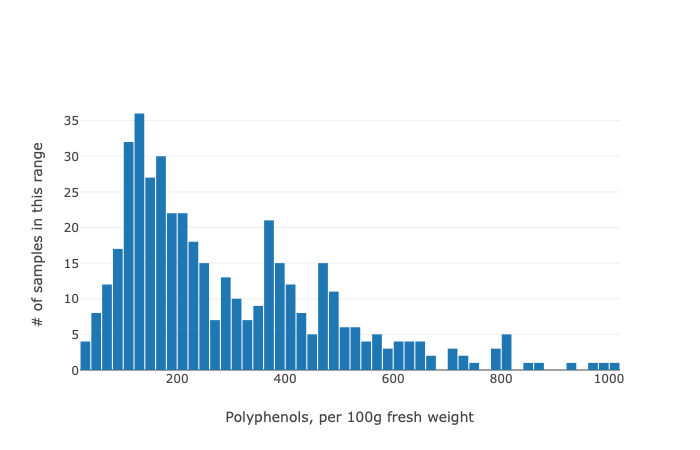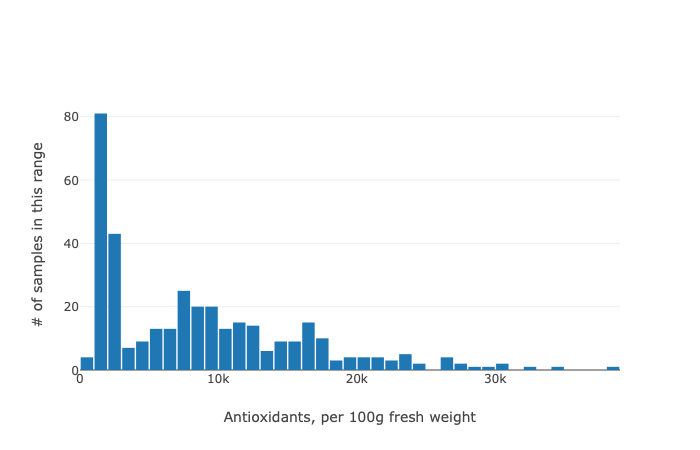 Lettuce: Polyphenols + Antioxidants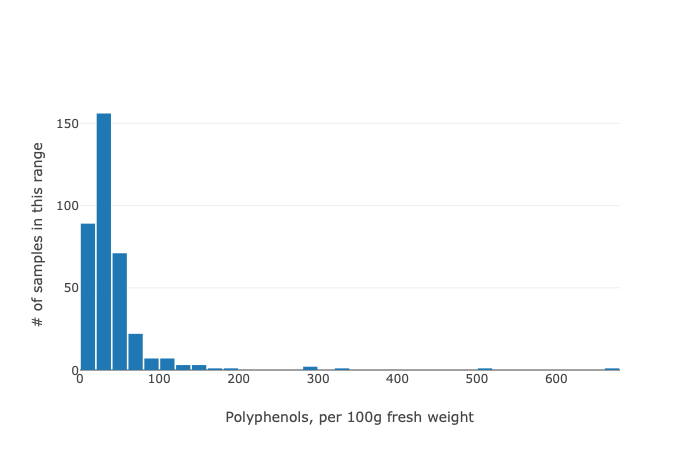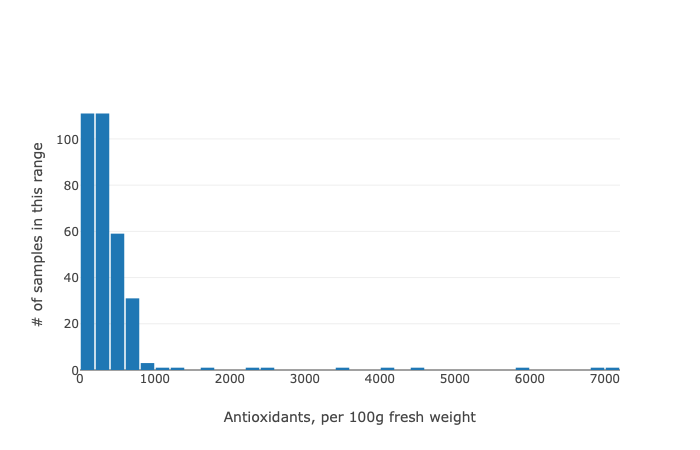 The 2020 Lab Season
Taking lessons learned from the 2019 lab season, we have expanded the 2020 survey in both breadth and depth. We are well underway with samples coming into the labs on a daily basis.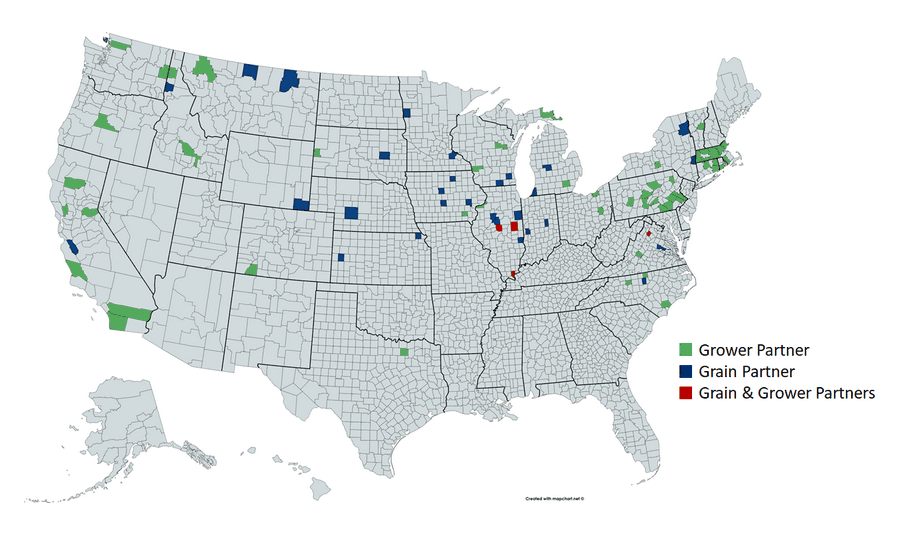 Key highlights include:
expanding from mainly vegetable crops to include row crops (potatoes, wheat, and oats),
increasing the number of crops from 6 to 17* and the number of samples from 2000 to 4000,
increasing the number of Grower Partners from 30 to 120 (75% of samples up from 25%) and improving the program by targeting partners from across the country, making it easier to submit management data, and addressing sources of sample loss in shipping,
hiring a data visualization expert and statistician (Welcome, Octavio!) to help us improve reporting of results to both farmers and the community at large,
adding a Food Dessert Experiment to our Citizen Science program, and
setting up a third partner lab in France through a partnership with Valorex.
We look forward to sharing these results as soon as they come in.
*Crops include: carrots, spinach, lettuce, kale, grapes, beets, bok choy, leeks, mizuna, mustard greens, potatoes, sweet peppers, Swiss chard, yellow squash, zucchini, oats and wheat.